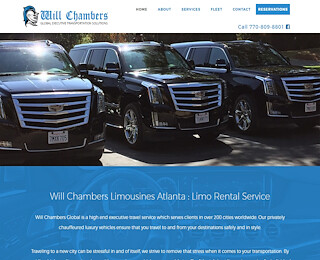 When you need to get where you're going with style and world-class luxury, and you need an experienced chauffeur who knows Atlanta streets and highways like the backs of their hands, think: 'Will Chambers.' Think of Will Chambers Global Executive Transportation Solutions as concierges on wheels. Our Atlanta chauffeur service caters to our clients' every need at every step of the way, from point of origin to final destination. Trust that we know how to get you where you are going, and our drivers are some of the safest in Atlanta with near flawless driving records.
Our Chauffeurs are More than Just Drivers
A driver's job is to get his/her clients from Point A to Point B safely and on time. At Will Chambers, our Atlanta chauffeur service goes above and beyond the basic duties of that a hired driver would normally do. Sure, we get our clients from Point A to Point B safely and promptly, and in the end, that might be the most important thing we do. But we also give as much time as needed to make sure each client is comfortable, informed, and aware of their options. For example, we tell our clients how long it's going to take, depending on which route we travel, to get them to their destination. We accommodate the temperature settings for them, making sure our clients are not too cold or too warm.
We have water in our vehicles for our clients. We provide WIFI for our valued clients so that they can stay connected and make arrangements while they travel. We have cell phone chargers, and clients have the option of radio, XM, or no radio. The main objective of our Atlanta chauffeur service is to make our clients feel welcome, at ease and cared for from start to finish.
Will Chambers Global Executive Transportation Solutions
Our commitment to client service is exceptional, and excellent client service is the backbone of our entire operation. Simply, our motto is to treat every passenger as if they're the president and try to provide them with a world-class experience and make them feel like royalty. Since our clients are trusting us to provide high-end transportation for them, their guests, their families, and anyone else they might bring with them, we want to live up to our clients expectations and earn our pay.
Just Remember 3 Words: 'Will Chambers Transportation'
At Will Chambers, we have a large fleet of sedans and limousines as well as other luxury vehicles for any occasion or need. Our Atlanta chauffeur service will get you where you are going promptly and safely. Our chauffeurs are some of the best in the industry and are friendly, interpersonal, and ready to accommodate your every need. Please, feel free to reach out by phone or by email. We'd be glad to make your acquaintance. Feel free to book your reservations and make any special requests. By the way, Will Chambers is dog-friendly.